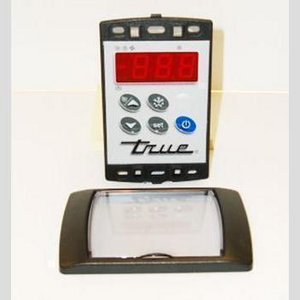 Electronic Control - 930708
TEMP CONTROL KIT, XW60VS-5N1FO MODEL AND SERIAL NUMBER INFORMATION REQUIRED FOR SALES ORDERS. INCLUDES: 1)822222 CONTROL W/ FACE PLATE, 1 SET OF 831985 PROBES, & 1) HOT KEY. SERVES AS TEMPERATURE CONTROL, DIGITAL THERMOMETER, TIMER FOR BOTH DEFROST AND REVERSE FAN MOTOR, DEFROST TEMP
Model specific notes:
REQUIRES FSCTORY PROGRAMMING. USED BEFORE 12/27/10 PER PCN 4772. TECH SVC. WILL NEED TO KNOW MODEL TO PROGRAM THE HOT KEY. MODEL AND SERIAL NUMBER INFORMATION REQUIRED FOR SALES ORDERS.
DISCLAIMER
When in doubt, please call us with your model and serial number to confirm part number needed. 
Please note product images, specs and other information provided may change at any time without notice and may not reflect the units in stock at dealer location. We pride ourselves on working with companies who are constantly researching and developing better products and as such specs may change with little or no notice.