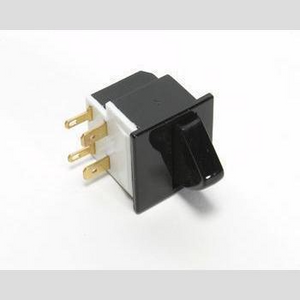 Switch - 921092
SWITCH, ROCKER #780203 WITH NO LIP BLACK BRC-1941BLK-R FOUR PRONG. ACTIVATES EVAPORATOR MOTOR WHEN DOOR IS CLOSED. WHEN DOOR OPENS MOTOR SHUTS OFF AND TURNS ON LIGHTS ON SOLID DOOR MODELS. LOCATED ABOVE DOOR ON MOST MODELS. PCN #3917
Model specific notes:
REPLACES THE 801902/801941 WHITE SWITCHES THAT WERE PREVIOUSLY USED.
DISCLAIMER
When in doubt, please call us with your model and serial number to confirm part number needed. 
Please note product images, specs and other information provided may change at any time without notice and may not reflect the units in stock at dealer location. We pride ourselves on working with companies who are constantly researching and developing better products and as such specs may change with little or no notice.